We know that the physical and emotional factors are inter-linked in our body systems. There cannot be one existing without the other. So many times that I was injured, only realized it later that there actually was something hidden behind! It was some time ago I felt that every time I wanted to bunk office, I would throw myself at the couch and practically doing nothing except watching the idiot-box the whole day! We all have days like that, however I learned to be nourishing to myself, free from all causes of my pains. I found the wonderful essential oil of Clove leaf much to my benefit to help me in this respect which helps me relooking on the causes and sources of my pains and also assists me in releasing and eliminating them. BTW, this is why I like certified organic Clove leaf essential oil coming from M/s AROMAAZ INTERNATIONAL as for its purity and lower cost when compared to others'.
Some history….‼
The Clove essential oil uses are known to date back to ancient India and China. Chinese used Clove or Eugenia caryophyllata for treating bronchitis, hernia, diarrhea, for eliminating intestinal parasites, curing skin infections, digestive problems and oral problems like sore gums and toothaches. The organic Clove Leaf Essential Oil (certified) is a native of Indonesia.  The Clove plant leaves are used for the essential oil extraction through the water distillation method. The oil yield gives out hot and spicy aroma which is not very strong and is known to improve memory and assist in healing as well.
A bundle of benefitting attributes!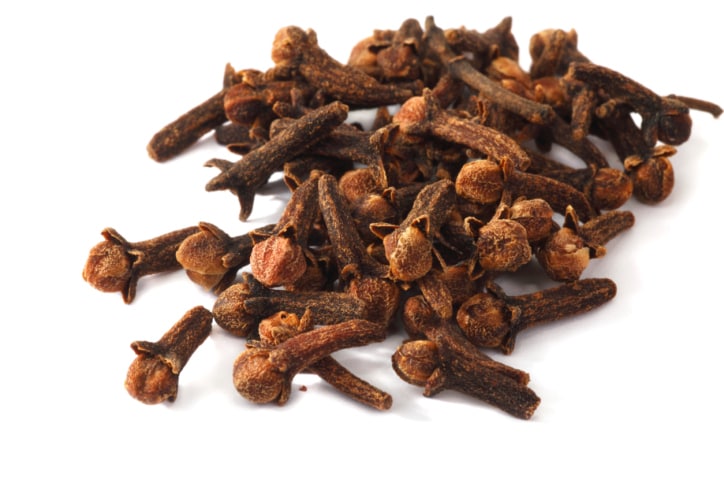 The organic essential oil is well known for its highly beneficial medicinal properties like anti-viral, anti-septic, anti-neuralgic, anti-septic, anti-spasmodic, anti-coagulant, anti-bacterial, anti-arthritic, anti-rheumatic, anti-fungal, anti-aging, pain killer and disinfectant, analgesic and digestive substances.
Principal component constituents!
Caryophyllene, Eugenol -Acetate, Eugenol are the principal components of the certified orga
nic essential oil of Clove leaves.
The Clove leaf oil FACTS that you never knew!
The medicinal benefits Clove leaf essential oil is mentioned in Hildegard's Medicine Book.
The organic Clove essential oil kills more than 60 types of bacterial strains, 15 strains of     fungi and several other deadly viruses as mentioned in 2004 edition of Journal of Antimicrobial Chemotherapy.
The certified organic Clove essential oil helps reducing Candida disorder by almost 75% after just eight (8) days of use. This is equivalent to the benefits derived from the use of Nystatin which is the most common anti-fungal drug used to treat Candida as per Journal of Drug Targeting, 2005 edition.
Diffusing a blend of Cinnamon, Clove, Eucalyptus, Lemon and Rosemary oils, commonly called Thieves blend, helps killing 99% of airborne bacteria in incredibly quick time!
The organic Clove leaf essential oil is also known to be one of the ingredients of "Marseilles Vinegar" also called "Four Thieves Vinegar". This vinegar gave an effective protection against the plague which was widely prevalent in the 15th century. It was developed by 'thieves' who robbed graves.
In the sixteenth century the Dutch invaders devastated all the Clove trees in the Spice Islands of Indonesia, where the Penang people were free of epidemics until then!
It is recommended that expecting mothers and women who are in the nursing phase should avoid using Clove leaf essential oil. One must consult a good physician before using this oil for any serious health issues.  As it can cause skin irritation, hence a diluted use of this oil is highly recommended.
Want to buy the organic Clove leaf essential oil?
Simple! Just visit the AROMAAZ INTERNATIONAL Mega on-line oil store and buy pure and certified organic Clove Essential Oil there!
The Spice Oil that protected the 'Thieves': The Certified Organic Clove Leaf Essential Oil!
Share and Enjoy