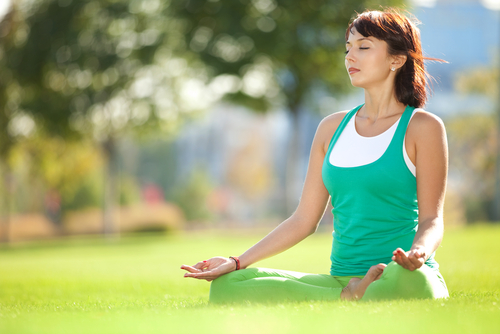 We all know that how numerous pure and Natural Essential Oils can be put to use to calm both body and mind. That the same may be used for practicing a peaceful session of yoga and for meditation, makes a wonderful and easy option for a stress free mind that refreshes body as a whole, as in charges up the body and mind for the challenges of the new day. An amazing combo that brings a new 'zing' in you and you feel all new energy and positive thoughts making way inside YOU! This write up, like many others written by many such experts, is yet another effort to help you ground yourself, assist you slowing down your racing thoughts, enable focused breathing and improve your concentration levels.
This is nothing "new" to us as you might be aware that many such incense and oils have been used for centuries, by various civilizations and religions across the world for meditations and prayers. Won't you try to adapt to such wonderful natural and pure essential oils in your modern day practice of yoga and meditation? Here is how you can use such wonderful gifts of Mother Nature to the best of your purposes. You may however make a note of this fact that this write up in no way or other acts as a substitute to medical advices and/or medicines and rather should be used as a 'launch pad' for your yoga and meditation practicing regime. The entire write up merely reflects my personal points of view and use and hence your personal discretion is very much applicable.
The 'Best' and 'Most Suitable' Essential Oils for your best Yoga and Meditation experience!
The following essential oils are my personal favorites that have given me best yoga and meditation experiences ever since I began and also feature great therapeutic properties besides their enigmatic aromas:
Cedarwood (Cedrus atlantica) essential oil – It exudes A warm, woody aroma and contains sedative properties that soothe a fatigued and stressed up mind.
Citrus essential oils – if you want to improve your focus in your yoga and meditation practice, try the combo of various single essential oils like Sandalwood, Vetiver, Frankincense with a Citrus essential oil such as Lemon (Citrus limon), Lime (Citrus aurantifolia) and/or Sweet Orange (Citrus sinensis).
Frankincense (Boswellia carteri) essential oil – This beautiful oil whiffs a deep, spicy, balsamic aroma and enables slow and deep breathing in you.
Sandalwood (Santalum album) essential oil – It gives out a deep balsamic, woody aroma and constitutes excellent sedative and anti-depressant properties. You may kindly note that Santalum album is now declared an endangered genus and hence you may choose another species the aroma of which may vary.
Vetiver (Vetiveria zizaniodes) – This mystic oil fumes a profound smoky, earthy aroma with calming and sedative properties.
 How do I Use Essential Oils for Yoga and Meditation for a Best ever 'Experience'?
This is the most important aspect of your 'launch pad'. Using your essential oils optimally for most and best results is what you are looking for, ain't you?
The most effective way in all probabilities known to us, is to diffuse essential oils. Given the space you have and the time length (time duration) of your 'Practice', the following methods may suit you the best:
Light a truly scented and aroma therapeutic candle with the essential oil blend you that you love the most and burn in the area where you wish to meditate. However, your courtesy will gain popularity for you, if you ask others' convenience as well.
Apply small amount of your favorite blend to your pulse points before you begin to meditate or you start your yoga session. Your pulse points include wrists, temple, and/or forehead.
IMPORTANT: The essential oils should always be diluted in an oil or balm base before applying to the skin.
You may order such 100% pure and natural essential oils at your convenience at the online mega store of M/s AROMAAZ INTERNATIONAL. Simply click on www.aromaazinternational.com through your PC, Laptop, i-pad or Smartphone and visit the fully safe and secure e-commerce enabled mega online store to view and purchase your choice of oils available at most competitive pricing. The quality of the oils and the after-sales is one of the best and second to none, I can safely bet on this!
Have a most divine meditation and yoga session.
GOD Bless!
Natural Essential Oils that help practicing Yoga and Meditation better and easily!
Share and Enjoy