Today I will wish to present before my dear readers some unknown facts about the certified organic Juniper Berry Essential Oil and that how greatly it affects our lives for our wellness and benefits! The berries and branches of the Juniper or Juniperus communis, a coniferous tree, have been used for medicinal and spiritual purposes since ages. The Old Testament evidences several references of the Juniper tree including Psalms 120:4. This verse references burning down someone who has a false, deceptive and dishonest tongue with the branches or logs of a broom-like (coniferous) tree which is an obvious reference of Juniper shrub that grew (and still grows) in Palestine. This passage can be interpreted in this way that the Juniper was used to cleanse, purify and eliminate the falsehood and negativity. You will be amused to know that Juniper berries give 'Gin' its distinctive flavor. The name Gin is a loosely derived from the word 'Jeneverbes', the Dutch word for Juniper!
All about the 'Origin'!
The organic Juniper berry essential oil is produced via steam-distillation of the berries of the Juniper plant under religious organic working and production conditions. The best known oils of the Juniper berries are sourced from Bulgaria, their place and region of origin and from the shrubs that take three years to mature. The thin and runny Juniper essential oil emits a distinctive woody, sweet, fresh and crisp – almost fruity aroma.
A few of those many 'Uses'….!
Juniper berry essential oil (certified organic) is known to encourage and support the emotional and spiritual aspects of a person, principally helping to negate fears and resistance to healing that helps a person overcoming nightmares and helps with more peaceful and restful sleep. This essential oil is extremely beneficial for those children who are afraid of the dark and unknown fears of the dark; it helps them to become courageous to face fears and drive away the 'monsters' under their beds. For adults, Juniper berry essential oil helps with deep spiritual healing and prevails over trauma or pain they are afraid to even look at or to examine as they are feared to be true (such as "I am an unfortunate person and will always be"). By facing such fears, one may begin to take them apart and slowly become free of them.
On the emotional grounds, Juniper Berry Essential Oil is very calming that helps to ease stress without any sedative effects that Clary Sage and the Chamomiles are known to give. When used 'spiritually', Juniper Berry Essential Oil helps purify and cleanse the air and atmosphere when used in a room mist, diffuser or candle burner. It is a good option during prayers or meditation.
The major chemical constituents of the organic essential oil of Juniper berries are Borneol, Camphene, Myrcene, Pinene, Sabinene and Terpinenol.
Apart from the uses mentioned above, the certified organic Juniper berry essential oil is used to cure severe colds, flu, acne, cellulites, gout, hemorrhoids, obesity, rheumatism and cleansing toxins build-up in the body.
I would like to also bring this information to the kind attention of my readers that none of the above mentioned health benefits have been evaluated or approved by the FDA, rather these are collated for your understanding and awareness on the basis of several reliable sources – both from books and internet. Hence everyone is requested to use your personal judgment and/or medical treatment when needed under the supervision of the trained physician or subject matter expert. Please remember, nor is it intended to diagnose, treat, cure or prevent any disease as it is only your doctor can diagnose and treat your disease. It is only your body can prevent or cure it.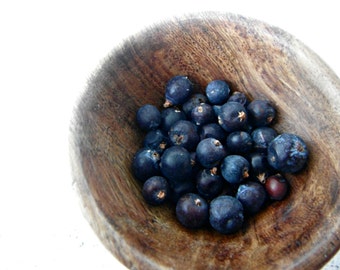 Eager to buy, but where to buy best quality organic Juniper Berry Essential Oil (certified)?
For the best quality results of the best effects of the Juniper berry essential oil (and to avoid wasting your money), kindly visit the Mega On-line store at Aromaaz International., as quality is everything when it comes to essential oils. I suggest that one should never buy your oils from the grocery and/or provision stores. Although they may be suitable for aroma, they aren't the quality you need for health purposes. I always rely on the best quality and reasonable pricing offered by M/s AROMAAZ INTERNATIONAL. Try once and get back to me with your honest feedback!
GOD Bless!!
Let your child overcome 'Fears of Dark' with Organic Juniper Berry Essential Oil!
Share and Enjoy